Introducing...
The Master Series.
Introducing Ciao Bella's 2021 QUATTRO Wood Fired Pizza Oven. Built with a dedicated firebrick cooking platform and over 3" of insulation between it's dome like walls for best heat retention. A vast selection of woods can be used for different flavours and, when it comes to the food itself, pizza is just the start, with breads, meats and vegetables all being other options. What brings everything together, however, is its simplicity. Easy to install, fun to use and with wheels for easy movement, you'll be making the Ciao Bella Pizza Oven part of your everyday cooking. Bon Appétit!
Up to 4 of 10″ pizza

2 of 14" and 10" pizza

Reach up to 950°F

Heavy gauge stainless steel
With so many colours available, you can customize your oven to perfectly suit your backyard space. From classic stainless steel, to ember red, to jet black, make a statement with your Ciao Bella showpiece! We have offer the largest colour selection in the wood-fired pizza oven industry.

Cook everything in minutes

Explore more culinary favourites with the versatility of your wood-fired outdoor Ciao Bella Pizza Oven. Once heated, cook a variety of meals beyond the perfect pizza – poultry, fish dishes, meats, and desserts can be steamed, seared and baked in your oven for a unique flavour experience.  

It's necessary to have high-quality ingredients and a high-quality fire to cook with. Oak and Sugar Maple Firewood is recommended as it quickly reaches highest temperatures, burns clean, and last longer – guaranteeing smooth cooking. 

Ciao Bella's Wood-Fired Pizza Ovens specific design creates an ideal trifecta for cooking. Take a look to explore how the elements come together for an authentic and efficient cook. Fire – the oven's double insulation quickly brings your oven to correct temperature and contains heat for more reliable cooking. Air – the domed roof keeps warm air circulating for impeccable surround cooking. Contact – the extended interior surface diffuses heat evenly for more thorough cooking.
Product Specification
| | |
| --- | --- |
| Material | Stainless Steel |
| Cooking Stone | Constructed of a thick 4 cm fire Brick stone |
| Heating Time | 25 minutes |
| Dimensions (inches) | 37 x 33 x 84 |
| Cooking Area (inches) | 34 x 30 |
| GW | 300 LBS |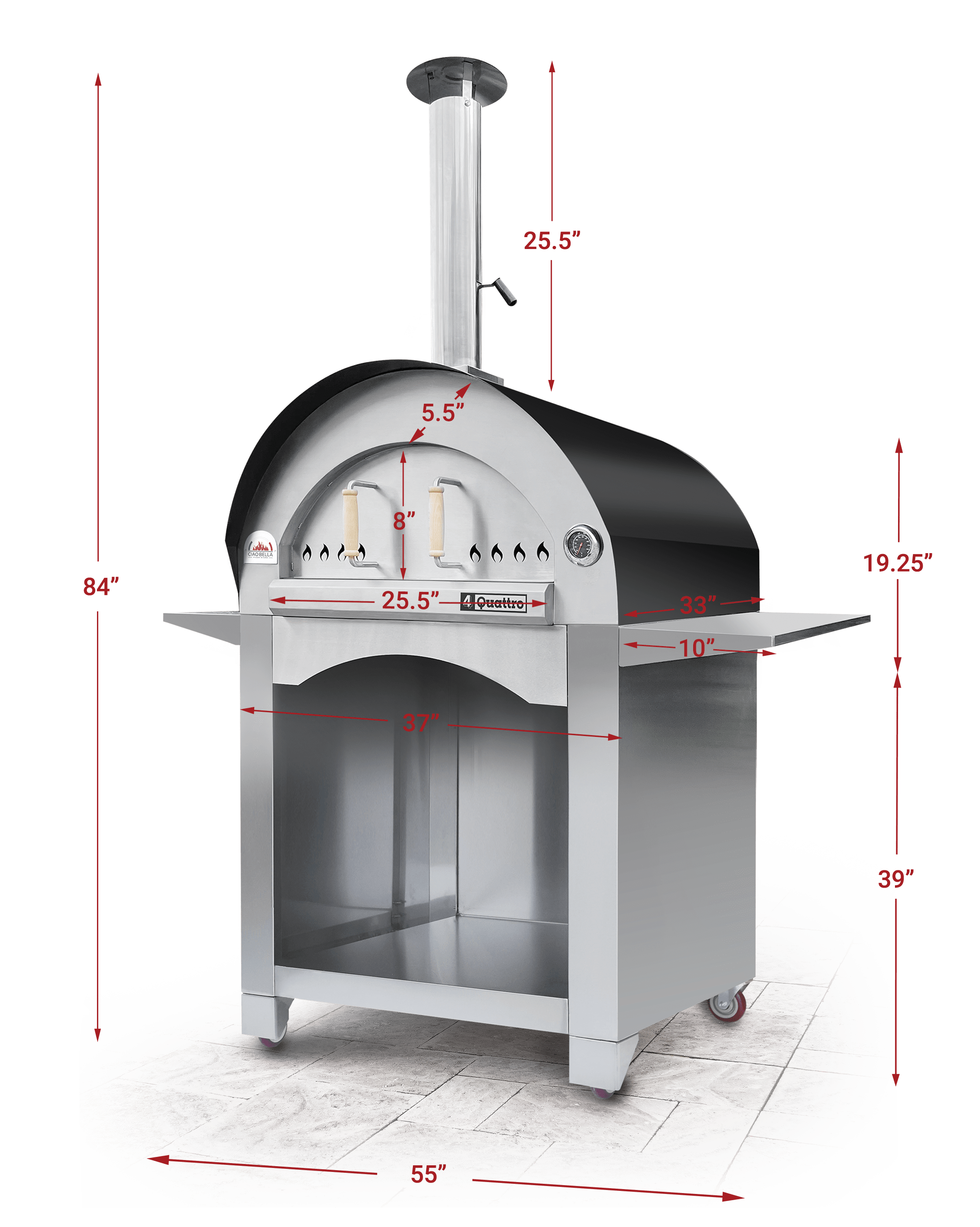 Our Quality
Thoughtfully designed, rigorously tested, and crafted with the highest quality steel, Ciao Bella Pizza Ovens are a durable investment in all kinds of weather.

The high quality ceramic fibre insulation provides optimal heat retention for efficient cooking.

Powder-coated with highly pigmented, heat resistant paint, a variety of available colours. North American weather approved.
You may Also Like
Customer Support
Questions? Let us help